RATED #1 FOR WINDOWS & GLASS IN PHOENIX
Do you have broken windows or dual pane glass units with seal failure? We can replace the glass. Did the neighbor's kid shoot his BB gun and shatter your sliding glass door? We have stock sliding glass doors available for installation. Do you have family heirlooms you want displayed on custom glass shelves? We can build that. Are you remodeling and want to upgrade your windows from single pane to dual pane? We have a full range of replacement windows to choose from.
From custom shower glass doors to mirrors and more, our Phoenix glass shop has all your household and office glass needs covered. Re-glazing windows is our jam so if you need affordable window glass replacement, call us first!
Our glaziers are specially trained and have all the tools to handle any window installation job correctly. Getting started is easy! Simply call our office and schedule a free no-obligation glass inspection and measurement. A professional glazier will give you expert advice on how to handle your window repair, replacement or installation project.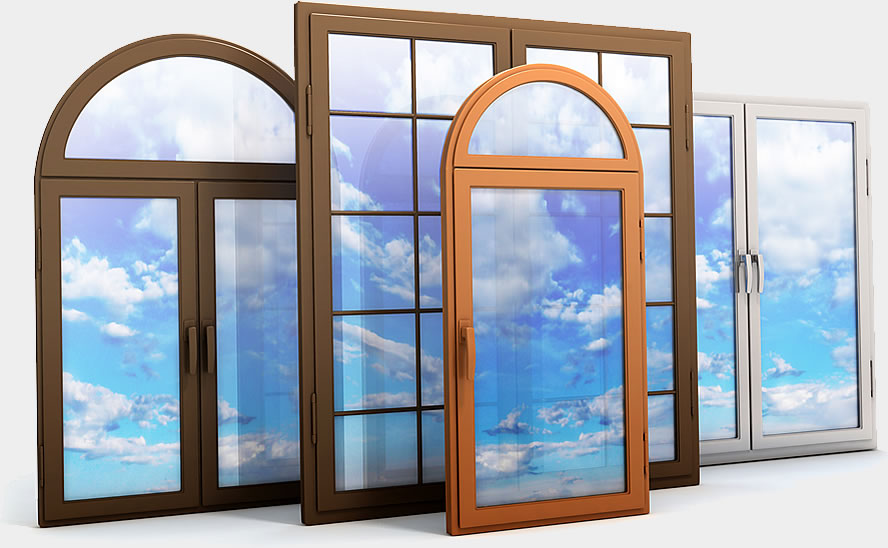 New Glass in 3 Easy Steps:
Step 1:

Contact our glass shop in Phoenix to get a free price quote and schedule an onsite inspection and measurement for glass repair or replacement.

Step 2:

We manufacture your new glass right here in Arizona using local suppliers. Once available, we schedule a time for installation.

Step 3:

A glazier will deliver the replacement glass and install it, dispose of your old glass, clean-up and make sure you are 100% satisfied.
Residential Services
We offer a complete range of glass solutions for your home including single pane window glass, dual pane window glass, custom glass shower enclosures, custom mirrors and glass table tops. Our glaziers are specially trained to handle all types of residential window repair projects such as window balances, rollers and springs. Any glass type and all sizes of annealed and tempered glass is available for replacement. Glass door replacement is available for sliding glass doors, entry doors and glass shower doors. For almost a decade Superior Replacement Windows have been serving households in Phoenix with exceptional service and the highest quality glass. Contact us to schedule a free measure today!
Commercial Services
The commercial glass division of Superior Replacement Windows in Phoenix can handle projects for office, retail, gym or public building. We specialize in exterior and interior glass doors for glass wall entrances and security desks. Typical commercial glass replacements include storefront windows and glass doors, dual pane windows with safety glass and custom built aluminum window replacements. We'll measure and custom fabricate glass features to meet any design requirements for build-outs and renovations. Our glaziers are equipped to handle emergency glass replacements where security is a concern. Call today to receive a bid on your next office or commercial glass project.
100% Done For You!
We are a full service glass and window replacement company equipped with the tools, expertise and glass products to do the job correctly the first time. We remove your old or broken glass, install new glass, clean up and provide a written warranty that covers our products and services. Glass for your home or office is manufactured to retrofit an existing window frame and eliminate the need for removing the frame from the wall. We eliminate the hassle of buying glass, delivering the glass, installing the glass and using the right materials to ensure long-term reliability. When working with Superior Replacement Windows you can relax knowing we'll handle everything from start to finish and guarantee the quality of our work.
Window Repair & Replacement Contractors in Phoenix
We are a locally owned window glass company in Phoenix, Arizona providing mobile repair and replacement of windows, sliding glass doors, skylights and glass shower enclosures and doors. We also supply custom cut glass for tabletops, household glass and architectural glass for commercial buildings. Replacing a window yourself can not only be more expensive but also difficult due to construction standards in the Phoenix area. We find window sizes that are misshapen or have inaugurate dimensions, making window replacement a more difficult job. Gaps and cracks between the frame and wall structures cause leakage of cool or warm air, compromising the integrity of the building envelope.
We are Phoenix window contractors skilled in one thing, installing windows. Our installers use only the highest grade glass and materials only luxury home builders and contractors would use.  You might think our services will cost more than a window purchased at a DIY retailer, however, we offer the window at wholesale prices due to our volume purchasing and custom building of standard sized windows. In most cases, our Superior Replacement Windows are more affordable than windows purchased at a store…and we include onsite installation, materials and site cleanup in all of our price quotes.
How Much Does Phoenix Window Replacement Cost?
The cost of Superior Replacement Windows depends on the type of window. We offer a full range of window and glass repair products including:
Residential Glass
Commercial Glass
Insulated Dual and Triple Pane Windows
Glass Shelving
Glass Table Tops
Tub Enclosures & Glass Shower Doors
Laminated and Tempered Safety Glass
Contact us in order to SAVE on your home or office glass repair! Call Superior Replacement Windows Phoenix for an affordable window installation quote – (602) 492-9067.
Local Family Owned Window Glass Center in Phoenix
Superior Replacement Windows is a locally owned and operated family business. We are members of Local First AZ and believe in keeping tax dollars in Arizona by sourcing locally and using local labor for our installation jobs.
We also value relationships which is why we typically over-deliver when it comes to service, pricing, and workmanship. We only install glass and use materials we'd use in our own home or office. Because we are contractors, we adhere to construction guidelines and standards that exceed typical builders in the Arizona market. We believe these attributes will make our business successful long-term and ensure our growth in the Phoenix market. All warranty inquiries, workmanship questions, and any customer service issues are handled by our licensed window contractor in Phoenix, AZ.
At Superior Replacement Windows Phoenix, our goal is to guarantee the thorough satisfaction of each client, while at the same time offering competent and convenient window repair service at discount prices. If you won't settle for anything but the best window restoration, we realize you have choices and we value your opinions and feedback.
Call Superior Replacement Windows in Phoenix, Arizona for all your household and commercial glass and window needs!